User:Jere Krischel
From TheMorganReport
Frequently Asked Questions
Who is Jere Krischel?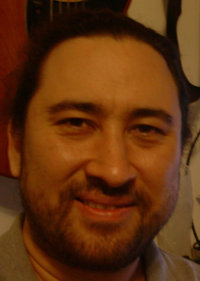 I am the father of son, Cameron Krischel and daughter, Tomi Krischel, and husband of Amani Krischel. My father is Walter Benavitz; my mother is Kathleen Masunaga. I have 4 brothers (Jon, Benny, Micah and Michael) and 2 sisters (Emily and Evelyn).
What is Jere Krischel's relationship to Hawaii?
I was born at Kapi`olani Hospital, and raised in Hawai`i. I have lived in Pauoa, Kaneohe, Red Hill, Makakilo, Wahiawa and Poamoho Camp. I attended Playmate School in Makiki, and Punahou School from kindergarten to 11th grade before attending the University of Southern California on an early admissions program. I worked as a paper boy in Wahiawa from 1985-1987, picked pineapple for Del Monte on summers and weekends throughout high school, and used to take the bus all the time (83 and 92 express, 52, 50 and 4 mostly).
How did Jere Krischel get interested in this project?
Early in 2004, while reading the Honolulu Advertiser online, I became more and more concerned about the impending Akaka Bill and the hatred preached by some of the more hard core sovereignty activists. In the course of researching the issue, and participating in online forums debating the subject, I always reached a blank wall when trying to find digital versions of the Morgan Report, a critical piece of the history around the overthrow.
Unbeknownst to me, others interested in opposing the sovereignty movements and race-based programs in Hawaii had come across my posts on various blogs and forums, and after some email dialogue about the dearth of online information regarding the Morgan Report, I volunteered to use my technical skills to scan, ocr and post the entire Morgan Report online, if someone would get me a copy. Thurston Twigg-Smith sent me a personal copy of a 100+ year old book via FedEx, and the rest is history.
What are Jere Krischel's motives?
First and foremost, as a human of many ethnicities and nationalities, I have a strong aversion to any racial categorization. The thought of being defined by one's ancestry is anathema to me. Although some may wish to label themselves "indigenous" to one area or another, it is my firm belief that ultimately we are all descendants of immigrants and indigenous to the planet earth, and we should treat one another with equality and respect no matter where the bones of our ancestors are interred.
As an American, from a country with a history born of the rejection of hereditary title and monarchy, I strongly believe in the ideals of human equality. Although the United States has not always been perfect in implementing the 14th amendment, it is an ideal to which I believe we should all aspire. I think the poem by Akemi Matsumoto Ehlrich on the National Japanese American Memorial says it best:
LEGACY
Japanese by blood
Hearts and minds American
With honor unbowed
Bore the sting of injustice
For future generations
As a Hawaiian, from an island chain with a legacy of many cultures melding together, I am proud of the example of our land. When people from the mainland talk about a "melting pot", they usually mean you can get any kind of ethnic food within 15 miles of home - people in Hawai`i mean you can get any kind of ethnic food within 15 feet of one kitchen, or within 15 inches of one plate.
As a scholar, I also have a strong interest in Hawaiian history, which has been further sparked by my recent participation in the debate over the issues of the 1893 overthrow, race-based government programs in Hawai`i, and the impending Akaka Bill. My father, Walter Benavitz, was a member of the Polynesian Voyaging Society, and participated in the 1987 tour of the Hokule`a. My school, Punahou, was a place of history drawing back to 1841 with a strong Hawaiian studies component.
All of these motivations brought me to the decision that I could no longer remain silent, and allow the racial supremists to dominate the dialogue. Witnessing the current tone and tenor of particular extremists on the issue, those activists inspired the "activist" within me.
It is my sincere hope that with enough constructive discussion, we can overcome our frailties, realize the complexity of "historical truth", and move beyond the politics of identity. We can and should live in a world that tackles humanitarian issues in a needs-based, race-blind manner.
What are Jere Krischel's ethnicities?
Direct descent - Japanese, Chinese, Spanish, Filipino, German, Irish, French.
Extended family - Portuguese, Kanaka maoli, Jewish, Russian, African, Lebanese, and Native American.
Why does Jere Krischel list his ethnicities if he doesn't like racial labels?
If asked what my race is, I am human, just like everyone else. My ethnic background is simply that - a collection of ethnicities (cultures, not races) which I have connections to.
More to the point though, it is not the idea of self-identification that I have a problem with - anyone can choose to call themselves any particular "race" if they wish. My problem is when that self-identification becomes a reason to treat someone differently, to give them disadvantages or privileges based solely on their "race".
Who does Jere Krischel work for?
I have worked at Kaiser Permanente in Information Technology since 1997. Starting as a programmer, I now manage a programming team that does eXtreme Programming (XP), J2EE and web development throughout the organization.
Did Jere Krischel get any money to work on this project?
No. I have done work on this project in my free time, and I pay for the hosting costs out of my own pocket. I have neither asked for compensation, nor been offered compensation for my efforts opposing race-based programs and the various Hawaiian sovereignty movements.
What has Jere Krischel done on this project?
I installed and configured the mediawiki software as well as various upgrades to it. I also scanned in every page of the Morgan Report, and uploaded both the raw images and the OCR text to the wiki.
As Editor-in-Chief, I have worked in conjunction with other contributors in correcting OCR mistakes and formatting the raw text for the wiki, and helped with some of the detailed analysis of the report.
Is this the same Jere Krischel that contributes to Wikipedia?
Yes.
Is this the same Jere Krischel that played in the Toby Semain Band?
Yes.
Frequently Refuted Arguments
The Republic of Hawaii was never officially recognized.
The Morgan Report contains evidence regarding the recognition of the Provisional Government of Hawaii, by all the foreign consuls present in the islands at the time, within 48 hours of the overthrow.
Some argue that this recognition was preliminary and not binding until further confirmed by the represented governments. Some have further argued that despite the large amount of academic and historical reference to the official international diplomatic recognition of both the Provisional Government and the Republic of Hawaii, that it did not happen. They demand direct proof, and scoff at any indirect academic reference.
Well, Helena G. Allen, in her book "The Betrayal of Liliuokalani" gives us a direct reference. On page 318 she writes:
On August 27 [1894], Willis wrote to Dole: "The right of the people of the Hawaiian Islands to establish their own form of government has been formally acknowledged both by Executive and Legislature departments of the United States. I extend recognition of the Republic of Hawaii.
On page 319, she gives a further indirect reference regarding other "foreign powers" recognizing the Republic of Hawaii:
On July 30 there were still rumors that the council of the Republic considered restoring the queen. Liliuokalani had hopes of restoration until the Republic was recognized by foreign powers. The "foreign powers" did recognize the Republic as "de facto government" on July 23. Paul Neumann insisted that defacto government versus de jure government was not legal. Liliuokalani mistakenly believed that power lay with this legality and not "might" and so continued to believe, encouraged by Widemann, Parker, and Cummins, that she could be restored.
According to Gavan Daws in "Shoal of Time", as documented in his footnotes, Grover Cleveland sent a formal letter of diplomatic recognition to the newly proclaimed Republic of Hawaii, as reported in the minutes of the Executive Council for August 25 and 27, 1894. Queen Victoria of England, who was also a personal friend of Queen Liliuokalani, also recognized the Republic of Hawaii as reported in the Hawaiian Star newspaper of November 15, 1894.
As more direct evidence is uncovered, it will be posted here.
It is illegal for non-oiwi to call themselves Hawaiian.
The passage cited for this is a Hawaii State Law:
http://www.capitol.hawaii.gov/hrscurrent/Vol01_Ch0001-0042F/HRS0010/HRS_0010-0002.HTM
It clearly defines both "Hawaiians" and "Native Hawaiians".
However, the scope of these definitions is limited. At the very top of the citation:
§10-2 Definitions. In this chapter, if not inconsistent with the context:
So clearly the definitions listed are restricted to offical use only within that chapter of law. As an example of another definition listed there:
"Administrator" means the administrator of the office of Hawaiian affairs.
Certainly this is not an lawful limitation on the use of the word "Administrator".
Contrary to the belief of some extremists, the government has no right to label you as any given race. And we pray in the future, one day, the government won't even care.
Further information on the meaning of "kanaka" and "kanaka maoli"
If you don't already have a copy of the Pukui-Elbert Hawaiian Dictionary, 1986 edition, you should buy or borrow one so that you can see some things for reference.
Check page 514, the entry for "rights". You'll see the example "Bill of rights, palapala o na: pono pilikino o ke kanaka".
Check also page 127, the entry for "kanaka". You'll see four main meanings:
human being ...
end of canoe float
clitoris
Canada
The Hawaiian version of "bill of rights" is more like "document of the personal rights of the people".
The meaning of "kanaka" is clearly that of the dictionary's main meaning #1, because it's not about rights of canoe floats, nor rights of clitorises (Latin plural is clitorides), nor rights of Canadians specifically (although Canadians are people with rights).
Under meaning #1 for kanaka, you'll see that there is a wide range of more-or-less related meanings. For example --- man, person, mankind, servant, (racial) Hawaiian --- and most relevant to the bill of rights: "private individual or party, as distinguished from the government".
Context is the key for correct interpretation. Notice in the dictionary kanaka entry the following example: "He kanaka maoli, a true human, a mortal". In a context, kanaka maoli means a "mortal", in contrast to a "god".
Then look further down on dictionary page 127, at the entry for "kanaka maoli". You'll see that the meaning is "Full-blooded Hawaiian person". So in another context, kanaka maoli can mean "100% racially Hawaiian person".
Nowadays, you know, lots of militant part-Hawaiians are calling themselves "kanaka maoli", because they are so obsessed with being racially Hawaiian, like it's "holier than thou". But those people are morally depraved through their racial narcissism and ignorance. An ironic thing is that the vast majority of them "do not qualify" as being "kanaka maoli" according to the definition given by the most revered Hawaiian scholar, Mary Pukui, because PART-Hawaiians are not "full-blooded" Hawaiian people.
By the way, context is vital in all languages, including English; not just in Hawaiian. For example, consider the following four sentences.
He likes the bear teeth.
He likes to bear teeth.
He likes to bare teeth.
He likes the bare teeth.
In sentence (1), you know by context of use that bear means a certain animal.
The key context is the word the right before bear. (adjective [derived from a noun] use of bear)
In sentence (2), you know by context of use that bear means "carry around".
The key context is the word to right before bear. (verb use of bear)
In sentence (3), you know by context of use that bare means "show" or "reveal".
The key context is the word to right before bare. (verb use of bare)
In sentence (4), you know by context of use that bare means "plain" or "unadorned".
The key context is the word the right before bare. (adjective use of bare)

Likewise, kanaka has different meanings in Hawaiian, according to its context of use.
Blount never held secret meetings.
pp. 751
Blount himself admits to the secrecy of his meetings:
I never allowed, so far as I could govern it, any one to know whom I had examined. I never allowed an annexationist to know I had examined a royalist, and never allowed a royalist to know I had examined an annexationist. The secrecy of my examination was the only way in which I could make a full investigation.
Hawaii's annexation was illegal because it was a resolution, not a treaty.
See:
Texas was also annexed by joint resolution, although some will dispute the parallel because Texas immediately became a state, and Hawaii had to wait over 50 years. The DOJ had a memo to the effect of questioning the usage of the Texas precedent in the annexation of Hawaii, but no legal case has ever been brought forth for a decision.
However, the difference between a Senate ratified treaty and the Newlands Resolution is quite minor - and in some ways, the resolution seeems more legitimate. The Newlands Resolution passed the House June 15, 1898 209 to 91 and the Senate July 6, 1898 42 to 21 (26 abstaining) and the measure was signed by President McKinley the next day. ["Empire Can Wait", page 121] Treaties require ratification by 2/3rds of the Senate only. [Article II, Sec 2, U.S. Constitution.] The Newlands Resolution, annexing Hawaii, was approved by 2/3rds or more of those voting in both the Senate and House.
The Statehood of Hawaii is not legal under international law.
As per the U.N. RESOLUTIONS ADOPTED BY THE GENERAL ASSEMBLY DURING ITS FOURTEENTH SESSION, 1469 (XIV) was passed on December 12, 1959, regarding "CESSATION OF THE TRANSMISSION OF INFORMATION UNDER ARTICLE 73e OF THE CHARTER IN RESPECT OF ALASKA AND HAWAII".
In this resolution, the U.N. noted, as a matter of international law, that the people of Alaska and Hawai'i have effectively exercised their right to self-determination and have freely chosen their present status.
The Apology Resolution of 1993 (PL103-150) makes the State of Hawaii illegal.
It is often claimed that PL103-150 is the smoking gun which invalidates the annexation and statehood of Hawaii.
This fails on several counts. Firstly, the Apology Resolution was purely symbolic - see the article Doesn't the '93 Apology Resolution trump the Morgan Report? for more details.
Secondly, if you were to assume that the whereas clauses had the full force of law, you must note that PL103-150 states very clearly the following whereas clauses:
Whereas, through the Newlands Resolution, the self-declared Republic of Hawaii ceded sovereignty over the Hawaiian Islands to the United States;
Whereas, the Congress, through the Newlands Resolution, ratified the cession, annexed Hawaii as part of the United States, and vested title to the lands in Hawaii in the United States;
Whereas, the Newlands Resolution also specified that treaties existing between Hawaii and foreign nations were to immediately cease and be replaced by United States treaties with such nations;
Whereas, the Newlands Resolution effected the transaction between the Republic of Hawaii and the United States Government;
Whereas, on August 21,1959, Hawaii became the 50th State of the United States;
This was actually mentioned in the Larsen v. Sai case argued before the Permanent Court of Arbitration at the Hauge. The president of the proceedings noted, "So, clearly, it was the view of Congress enacting this law that, notwithstanding the deficiencies of the 1890s, Hawai'i had, in fact, been incorporated within and subsequently became a state of the United States."
The "Teuton Letters" show exactly how racist President Dole was.
The Pacific Historical Review, March 1936, p. 71-75, contained the following article, which is asserted by some to show racism on the part of Dole:
---
The Pacific Historical Review
Documents
Letters of Sanford B. Dole and John W. Burgess
Introduction
The letters here published represent all of the correspondence between Sanford B. Dole, the leader of the Hawaiian revolution of 1893, and Professor John William Burgess, dean of the faculty of political science in Columbia University, which has been preserved in the manuscript collection of the Columbia University Library. For permission to publish these letters I am indebted to Mr. Milton Halsey Thomas, Curator of Columbiana.
Sanford Dole, the leader of the provisional government which came to power in Hawaii after the deposition of Queen Liliuokalani in January, 1893, had refused in December to permit the reinstatement of the queen. Hope of joining the United States had been dashed by President Cleveland's refusal to ratify the treaty of annexation; the provisional government, therefore, decided to call a constitutional convention to lay the ground-work for a republican government. These letters record Dole's request for advice from Professor Burgess, and the suggestions which Burgess though appropriate to the situation in Hawaii.
Henry Miller Madden
Columbia University
[Dole to Burgess]
Honolulu 26 March 1894
Prof. John W. Burgess
Dear Sir: In the 2nd vol. of your book on Political Science and Constitutional Law, on page 39, you say "it seems to me that the form (the form of the future) will be a republic with centralized legislation and federalized administration. Its executive will be independent in tenure, and will exercise a veto power, a military power and an ordinance power active enough and strong enough to defend his constitutional perogatives and initiate and direct the measures of administration. But he will be bound to keep his cabinet of advisers in political accord with the lower house of the legislature"[1]
I wish to ask you in such a case, if the tendency would not be to weaken the executive and transfer the real power to the Cabinet, or to its leader, who would become the leader of the party in power? I infer from other passages that such a cabinet should be members of the legislature (pp 118-119). Would not the tendency above mentioned be inevitable in such circumstances?
We are at work upon a new republican constitution and your book has been of great help to me. If you can give me light on the point mentioned and upon any other points that may suggest themselves to you I shall be your debtor.
I pray that you will pardon this reqwuest, and if it is not convenient for you to notice it I trust that you will not incommode yourself.
I am very sincerely yours
Sanford B. Dole
[Dole to Burgess]
Honolulu 31 March 1894
Prof. John W. Burgess
Dear Sir: I wrote a few days ago asking you for an opinion on a certain point, and now I wish to trouble you still further if it is convenient for you to give your attention to our questions.
In drafting a new constitution the plan of an upper and lower house of the legislature will be adopted. Under the monarchy there were two classes of legislators who sat together and who were elected by voters having different qualifications. There are many natives and Portuguese who had had the vote hitherto, who are comparatively ignorant of the principles of government, and whose vote from its numerical strength as well as from the ignorance referred to will be a menace to good government.
It is proposed to make easy conditions for voting for members of the lower house, but to make difficult ones for the voting privilege for the upper house, such as educational and property qualifications, and to give the upper house the right with the lower to introduce money bills.
This plan will raise considerable opposition and will result probably in some permanent discontent, but those who insist on it say that it is the only plan by which the government can be kept out of the control of the irresponsible element, and consequently of the professional politicians. We can probably carry this feature in the constitutional if we decide upon it.
I wish to ask you if there is any alternative to this proposition? We have no subordinate governments. The town meeting, county or state governments do not exist in our system. We have election districts each of which elects one representative. Would the following plan be safe? Both houses numbering eighteen members each. The lower house to be divided into electoral divisions of three members in each, which shall every two years elect one third of the upper house, each division electing one member thereof; the members of the upper house to serve six years. The upper house to elect the President.
Asking your indulgence for these inroads upon your time, I remain very sincerely yours,
Sanford B. Dole
[At head of letter on page 1] Our election for the Constitutional Convention is May 2nd. and the Convention will probably follow in two or three weeks.
[Burgess to Dole]
Columbia College in the City of New York
School of Political Science
April 13/94
Hon Sanford B. Dole
My dear Sir: Your letter of March 31st is just recieved. If I understand your situation it is as follows: You have a population of nearly 100,000 persons, of whom about 5,000 are Teutons i.e. Americans, English, Germans and Scandinavians, about 9,000 are Portuguese [sic] about 30,000 are Chinese and Japanese, about 8,000 are native born of foreign parents, and the rest are natives.[2] You have, according to your late constitution, a law of suffrage, which allowed every male adult citizen having a certain slight educational qualification to vote for those members of your late legislative body called "Representatives", and which required of the voters for those members called "Nobles" an additional, property qualification of a substantial sort.
With this situation, I understand your problem to be the construction of a constitution which will place the government in the hands of the Teutons, and preserve it there, at least for the present. I think you can accomplish this with the existing material at your hand provided the Teutons are substantial [sic] united in purpose and will act harmoniously.
I would suggest that you establish a legislature of two houses, having the same number of members in each; that the voters for the members of the lower house should have the qualifications which your late constitution required of voters for that part of your late legislature termed "Representatives["]; and that the voters for the members of the upper house should have the qualifications which your late constitution required of voters for that part of your late legislature termed "Nobles." If it should be deemed desireable to make the legislature still more conservative you can accomplish this by requiring property qualifications and advanced age for membership and electing by general ticket.
I would suggest in the second place, that you establish a strong presidency; that you elect your president by a college of electors, equal, as to numbers, to the membership in the two legislative houses; that one half of these electors should be elected by the voters for the members of the lower house of the legislature, and the other half should be elected by the voters for the upper house of the legislature; and that the presiding officer of the electoral college should be selected by lot from among the members of the college, and should have no vote except in case of a tie.
If it should be deemed desirable to make the electoral college still more conservative, you can accomplish this by requiring property qualifications and advanced age for membership in the college and electing by general ticket.
As I understand your situtation my suggestions would not deprive any person or class of persons of any political right enjoyed under your late constitution, but they would rather accord to these persons or classes of persons more political right in that they would be permitted to participate in the election of the president as well as of the legislature. This is always a great advantage to a new government which has followed a revolution. In fact stability for it can scarecely be attained in any other way.
The plan of electing the senate by the lower house and the president by the senate is substantially the Venezuelian [sic] system, which has been found to work very badly. I would not advise it in any case, certainly not for the period next succeeding a revolution. It puts too much power in the hands of the lower house of the legislature.
As I wrote you last week, pay great attention to the construction of your judicial system. Appoint your judges for life or during good behavior and administer equal justice to all, and appoint only Teutons to military office.
If I can be of any further service to you, command me.
Yours very truly
J. W. Burgess
[Dole to Burgess]
Honolulu 18 Dec 1894
Prof. John Burgess
Dear Sir: I received your kind letter aefw weeks ago congratulating me upon our organization of a republican form of government. At the time of the sitting of our constitutional convention, I mailed you a printed copy of the first draft of the new constitution as submitted to the convention, and later I mailed you a copy of the constitution as finally adopted. I trust that you recieved both.
I wish to thank you most heartily for the kind assistance you gave me in response to my several letters of enquiry during the last time I was at work on the draft of the constitution. Permit me to say that your letters showed a clear knowledge of our peculiar political circumstances.
It is also with great pleasure that I acknowledge the great help your work on the science of government was to me.
I would not have you think that the first draft of our constitution was my sole work. Mr. Thurston[3] aided me largely, and our draft was carefully scrutinized by a dozen or more thoughtful men which were called together for that purpose, and who gave many days to it, goving over every sentence with great deliberation; and so the draft which was submitted to the constitutional convention, was constructed.
Yours very sincerely
Sanford B. Dole
---
↑ John W. Burgess, Political Science and Comparative Constitutional Law (Boston, 1890-91), II, 39. The passage quoted reads correctly: "It seems to me, however, that that form will be a republic. . ."
↑ The total population of Hawaii in 1890 was 89,990; "Teutons" numbered 4533, Portuguese 8602, Chinese and Japanese 27,661, naturalized foreigners 7495, Hawaiians and part-Hawaiians 40,622.
↑ Lorrin Andrews Thurston (1858-1932), minister of the interior in the Kingdom of Hawaii 1887-90; member of the House of Nobles, 1892; special commissioner to the United States to negotiate a treaty of annexation, 1893.
---
Specific refutations
The particular passages cited by Dole detractors are not nearly as damning as they would claim. For example, Dole writes to Burgess:
There are many natives and Portuguese who had had the vote hitherto, who are comparatively ignorant of the principles of government, and whose vote from its numerical strength as well as from the ignorance referred to will be a menace to good government.
Although elitist, Dole hardly ascribes ignorance of the principles of government to the fact of a person's ethnicity, neither does he assert that all "natives and Portuguese" are ignorant.
In replying Burgess writes:
With this situation, I understand your problem to be the construction of a constitution which will place the government in the hands of the Teutons, and preserve it there, at least for the present.
Again, there is no assignation of worth or unworth depending on one's ethnicity from Burgess - he is simply suggesting a strategy for Dole to maintain a government (and a temporary one at that) that would give greater influence to his current supporters. In fact, the only person who uses the word "Teuton" is Professor Burgess, although it is Dole who is critiqued for racism.
In another passage, Burgess writes:
Appoint your judges for life or during good behavior and administer equal justice to all, and appoint only Teutons to military office.
Certainly his first clause, asking for "equal justice to all" is a noble sentiment. His admonition to "appoint only Teutons" to military posts is again, without any assignation of worth or unworth - simply a shorthand for Dole's current supporters.
The last passage cited by Dole detractors, from Dole to Burgess, reads:
Permit me to say that your letters showed a clear knowledge of our peculiar political circumstances.
This is taken by Dole detractors as some sort of subtle acknowledgement and appreciation of the racism they ascribe to Professor Burgess's use of the word "Teuton". Failing to understand just how blunt, outspoken, and unrepentant racists were in 1894, it may be possible with modern eyes to "read between the lines" to find something to criticize President Dole about, but with any rational reading, the communication between Dole and Burgess is simply elitist, not racist at all.
My Human Sovereignty Rant
Thank you Mana, for reminding me I said this once...
I make the bold claim that any preference for or discrimination against a person based on racial composition or family ancestry is wrong.
Hereditary titles are wrong.
Punishing children for sins of their parents is wrong.
Everyone, regardless of race, creed or color should have equal rights, everywhere.
Where discrimination exists, it should be fought, but not by merely reversing roles. Equality is the goal, not vengeance.
We should join together to fight for Human Sovereignty, the right of all peoples who live and dwell side by side to have an equal say in their governance.
We should have the choice on census forms to claim our race as "human". Although it may be sad to think that only a small percentage of people would check that box today, we can work towards education and enlightenment to raise that number.
Human Sovereignty is inherent, inviolate and eternal. No collection of any people should be able to tell you that you don't belong, or you don't deserve representation.
Human Sovereignty is the goal of all good governments, and the inevitable direction of history.
Human Sovereignty for all humans in Hawaii NOW!!
Other appreciated quotes
"[r]acism is the lowest, most crudely primitive form of collectivism. It is the notion of ascribing moral, social or political significance to a man's genetic lineage….[It] negates two aspects of man's life: reason and choice, or mind and morality, replacing them with chemical predestination." -Ayn Rand Racism
"There is no room under the Amendment for the concept that the right to vote in a particular election can be allocated based on race. Race cannot qualify some and disqualify others from full participation in our democracy. All citizens, regardless of race, have an interest in selecting officials who make policies on their behalf, even if those policies will affect some groups more than others. Under the Fifteenth Amendment voters are treated not as members of a distinct race but as members of the whole citizenry. Hawaii may not assume, based on race, that petitioner or any other of its citizens will not cast a principled vote. To accept the position advanced by the State would give rise to the same indignities, and the same resulting tensions and animosities, the Amendment was designed to eliminate. The voting restriction under review is prohibited by the Fifteenth Amendment." -Rice v. Cayetano